Children's Healthcare of Atlanta
Atlanta, GA
January 6, 2016

Healthcare Artwork
January 5, 2016

Lobby Artwork
January 4, 2016

Law Firms
January 3, 2016

Sculpture
January 2, 2016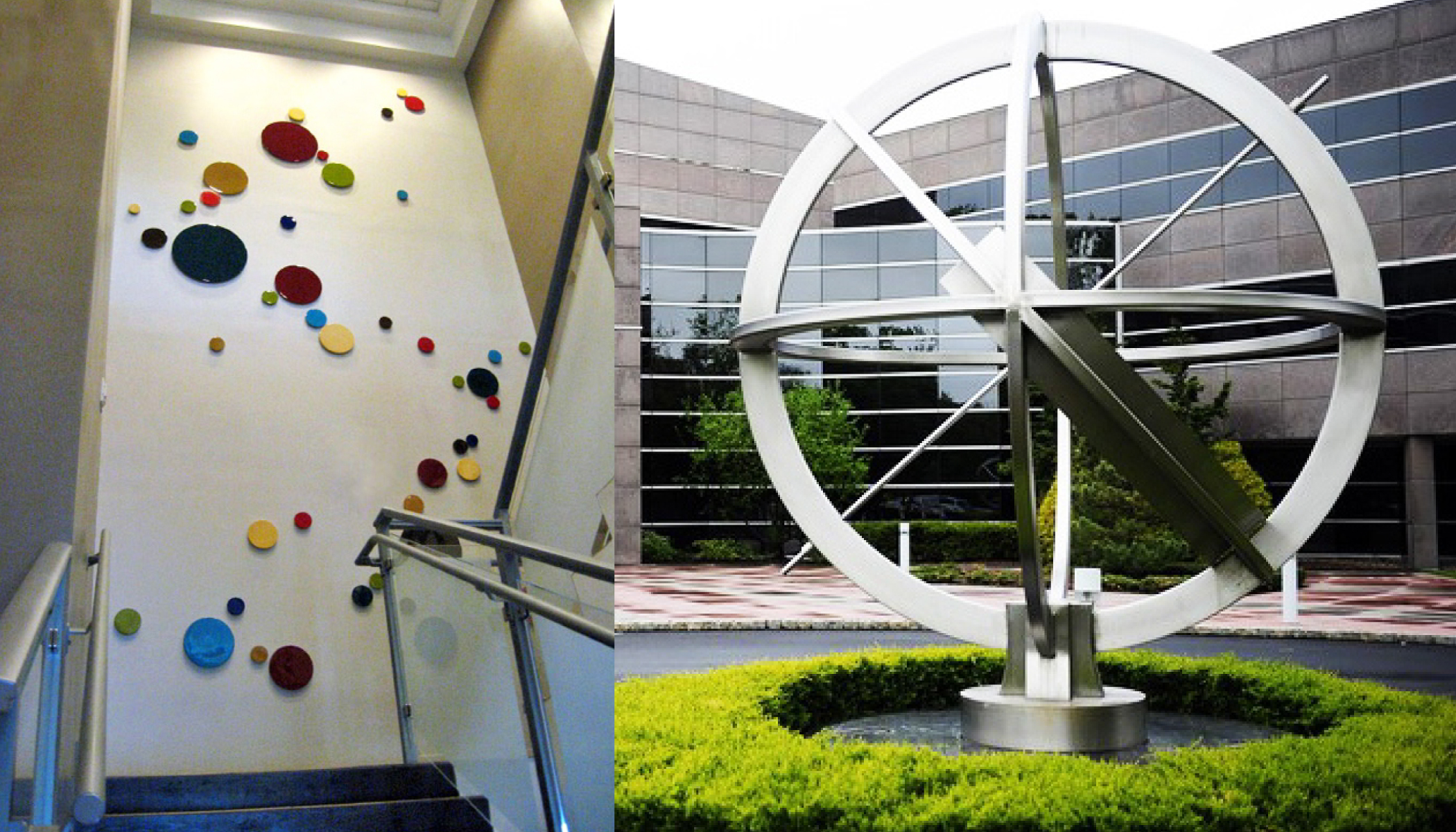 Architectural Features, Historical Exhibition & Display
January 1, 2016

Happy New Year! A Look Forward to Trends in 2014
January 13, 2014
Happy New Year! I've been thinking a lot about trends we've seen this year in Miami at Art Basel 2013, and how those trends apply to what we do in the hybrid Art/Design world.  There was so much emphasis on new  or unexpected materials this year in Miami. I can't tell you how much felt, yarn, cut paper and wood we saw used in such exciting ways. We have noticed a move away from framed art in the past few years, and we are asked much more often now for artist fabricated architectural elements like screens and lighting.  Art has become more interactive and experiential than ever before.  Here's a photo of one of the laser cut walnut screens we created for the newly renovated Sun Dial restaurant at the top of the Westin Peachtree Plaza and a photo of our Lobby screen dividers for the same project.
I think the gravitation away from what we have traditionally viewed as artwork is a trend we will continue to see develop as technology and art collide.  The accessibility of video art for home use and hand-held devices  is something I find particularly interesting, and the site S/edition is doing this incredibly well.  Check them out if you haven't already:  http://www.seditionart.com/.  It's mind-blowing to me that you can purchase a Jenny Holzer editioned video piece for less than $100 and have it play on your home television or tablet! Let me know what your thoughts are! Are you seeing trends in Art & Design that you find interesting? Happy New Year! Make it everything you want it to be.
Here's a Cheer for "Vermeer with a Schmear"
September 18, 2013
Please read the  terrific piece by Deanna Sirlin entitled Her Left Cheek included in this month's online issue of  The Art Section.  www.theartsection.com  If you haven't discovered this online critical arts magazine, I encourage you to subscribe. It's rich with fantastic contemporary art content, much of it written by our great friend, the artist and recent author, Deanna Sirlin.
This month Deanna takes The High Museum to task for its marketing blitz focusing on  Vermeer's masterpiece Girl With A Pearl Earring  currently on view as part of the High's exhibition Girl With A Pearl Earring: Dutch Paintings from the Mauritshuis.  Deanna's point is that by heavily marketing Vermeer's"Girl ", The High has, in essence, overshadowed the 34 additional masterpieces in the exhibition.   Deanna, I hope you will not take offense, but I'm going to disagree with you on this one.  Having worked for a non-profit arts center early in my career, I can tell you that sitting around a table trying to figure out how to get people through the turnstiles was a daunting challenge, and that was before the world of instant technology had taken up valuable mental real estate of potential museum-goers. While I agree that "Vermeer with a Schmear"  (The High's offer of  bagels  and coffee with admission) seems downright silly, it's precisely the kind of event that attracts folks who might not ordinarily visit the High to see not only Vermeer's famous Girl, but the additional, lesser known works and artists in the exhibition. The goal is, and should be, to get people through the damned turnstiles, because once they're in, there's much more than the Vermeer to behold.  You speak, in your piece, about being weak in the knees while spellbound by an artist you'd never heard of.  Mission accomplished.
My friend, you and I are impassioned by the visual arts-we would have gone to the exhibition with or without the incentive of a schmear, so these marketing campaigns are not really aimed at us.   The bottom line is, museums like The High have a responsibility to the works they exhibit that will always supercede any marketing campaign, and that is to have the work viewed by as large an audience as possible, and it's a  tough task these days.
In closing, I just couldn't resist the High's promotion to create a "Go Girl" masterpiece with my German Shepherd, so I present to you,  in all her glory:  Luca with a Pearl Earring.  C'mon, admit it…it's pretty fun!
4 Story Grand-Scale Painting at Westin Peachtree Plaza
July 25, 2013
After many months of preparation and some crazy logistics, we are super excited to be a full week in to the six week commission of the monumental painting on the four story core of the iconic Portman-designed Westin Peachtree Plaza here in Atlanta. We'll keep the blog posted with progress photos and please check our Facebook project page for photos and video . Thanks to everyone involved in the process, most especially the amazing painter Raymond Saa, who is not only hand painting the entire circumference of the core including 75 feet or so in height, but who learned to operate an interior boom lift just to complete the commission! Raymond is a phenomenal artist, and we're thrilled to be a part of this incredible transformation.
Hotel Indigo Train Murals
April 17, 2013
Maybe it's because both of our office locations have been beside the train tracks or  that Atlanta's history is so closely tied with the railroad industry, but I'm pretty much a sucker for all things train-related,  even when they roar by our office with horns blaring so loud it shakes the rafters and we have to ask people if we can call them back if we're on the phone.  So we were pretty excited when the Hotel Indigo brand asked us to procure a selection of train-related murals for an Atlanta area Hotel Indigo.  We sent our photographer out for four days to capture some pretty amazing imagery.  Here are a few shots of the installed murals, one of which is nearly the same size as an actual box car.  Thanks to everyone who made it happen!